INCREDIBLE EARNING OPPORTUNITY WITHIN THE MEDICAL CANNABIS MARKET
We do the work, you collect high-returns. No strings attached.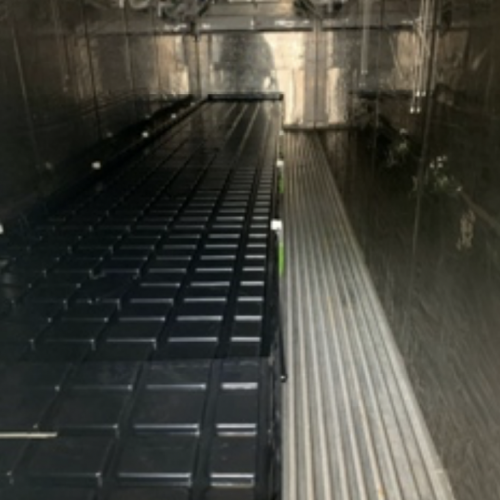 Grow-pod converted shipping containers are state of-the-art, environmentally optimized growing systems for growing high quality medical marijuana. Your investment goes into a 3 year ownership of a built-out, insulated container. We then lease the Pod to you as part of a licensed 15,000 sq. ft. facility and investor lease payments are based on a percentage of profits and are very exciting!
Our self-contained and energy-efficient, "Ready to Grow" containers are air and watertight. The air and water are filtered inside a Grow Pod and since it is a sealed environment there is little chance for contamination. LED lights emit only select wavelengths, which plants are able to absorb for photosynthesis. Perfect for controlled year-round cultivation of high-quality medical marijuana. Our system not only creates a year around growing system but also predictable results harvest after harvest. Our expertise and experience, combined with top-quality equipment and systems produces consistently high yields.
40' long – High Cube insulated shipping container
Dual 2-ton 24,000 BTU Mini Splits
Reverse Osmosis (RO) water filtration with dual pre-filter canisters
200-amp electric panel with separate breakers for all components
225 -pint Quest© dehumidifier system
Dual intake fans with carbon pre-filters and exhaust fan
8 Nextlight© full spectrum dimmable LED grow lights, perfect from veg to flower
5' x 32' sliding/rolling grow table for easy access
4' decontamination entry room
Trolmaster© automated monitoring and control system
4 camera wireless surveillance system, accessible via smartphone or tablet
Operations of our Grow-Pod shipping containers are done by professionals, as part a successful cultivation facility.
Bypass the risk and expense of constructing, buying, or renting a facility and having to do the build-out. Our experts and our containers are ready to go and grow.
---
Sound interesting? Schedule a chat with us to discuss
this exciting opportunity!