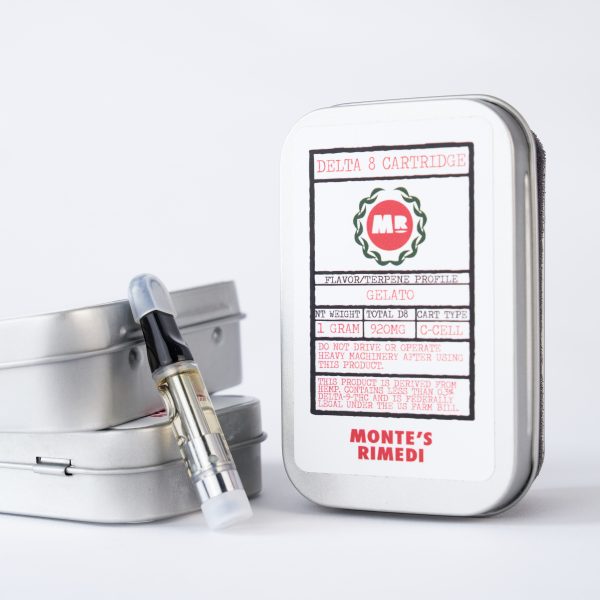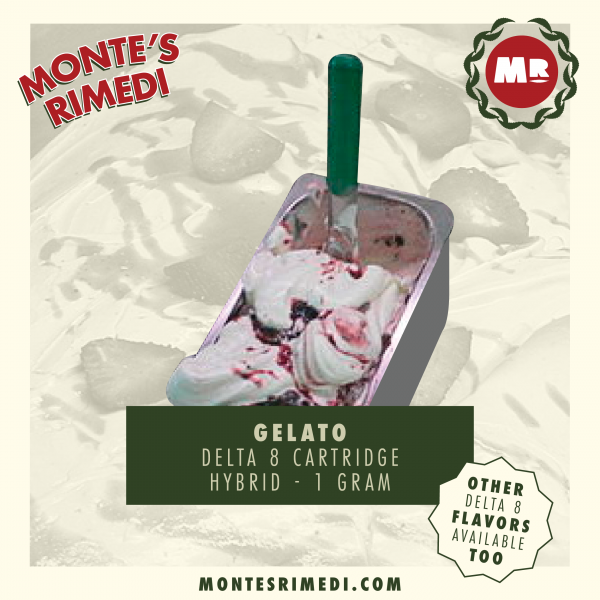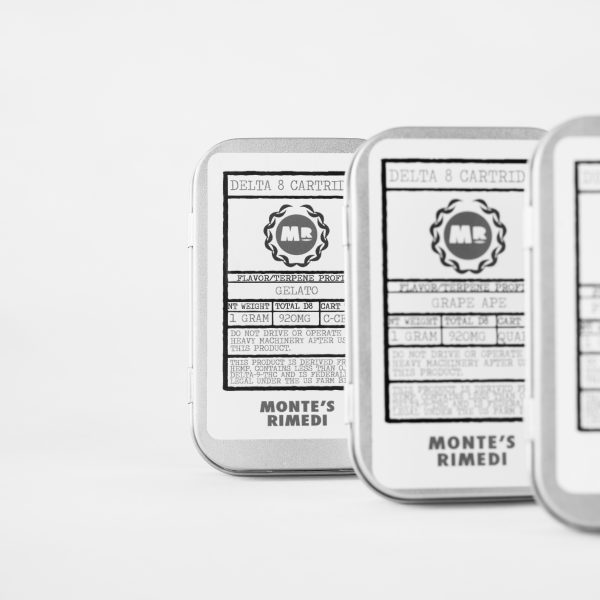 Delta 8 Gelato Flavored Vape Cartridge
Enjoy summer time on the Italian Peninsula from your own balcony.
Our delicious Delta 8 Vape is made with real flavor of the famous strain Gelato. Enjoy making some tasty clouds with the creamy, sweet taste you know and love.
Description
Delta 8 Gelato Vape Cartridge
The brand new Montes Rimedi Delta 8 Gelato Vape Cartridge is here, and is packed with 920mg of Delta 8 in a delicious Gelato Flavor.
The cartridge comes in a collectible, classic tin can for the best freshness and storage.
Download Certificate of Authenticity (CoA)
Delta 8 Gelato Cartridge Contents
Net Wt: 1g
Total Delta-8: 920mg
Terpene Profile: Gelato
A.k.a "Larry Bird" or "Gelato #42", this legendary strain is the perfect balance of indica and sativa. Our Delta 8 gelato is both sweet and fruity with a creamy aroma. Additionally, the classic gelato flower is packed with THC, so this cartridge is formulated to match. With 920mg of Delta 8, you'll be enjoying an intense and euphoric high. Add on some massive relaxing effects, and we are sure that this D8 is going to be your new favorite cartridge.
Some users report a spike in creativity after consuming Gelato, while others say it helps their moods feel generally boosted with an increased sense of wellbeing.
Dominant Terpene: Caryophyllene
Caryophyllene is a terpene we all recognize for it's kick. That's because it's what gives the spice to black pepper, cloves, rosemary, and even hops. Caryophyllene combines with a host of other terpenes to give our gelato blend it's unique kick.
Cartridge Type: C-cell
Our Delta 8 cartridges are C-cell type. Since they use the standard 510 thread, you can use this cartridge on most generic pen batteries. However, you should be sure to check your battery for compatibility.
Warnings
Do not drive or operate heavy machinery after using this product.
We derive our Delta 8 from hemp. This product contains less than 0.3% Delta-9 THC and is federally legal under the US Farm Bill.
Interested in learning more about Delta 8?
Read our guide to the Endocannabinoid System to learn how cannabinoids affect your body.
Look here for a complete breakdown of Delta 8 vs Delta 9 THC.
First getting started with CBD and Delta 8? Here's the basics: What is CBD?